Meet our leather hides. Sourced from Arzignano, a small industrial town with leather tanning heritage and reputation for producing the finest furniture leathers in the world, all of our hides are top grain. No compromise is made on quality when it comes to making Thomas Lloyd furniture – you won't find us using bottom splits, composites or synthetic hides.
There are five different leather types we use for our sofas. We've paired each of our collection with the leather types we think suit the design best, although you can place a bespoke order for any leather you have your sights set on.
Find out more about each type and its perfect pairing below:
The classic retro vintage leather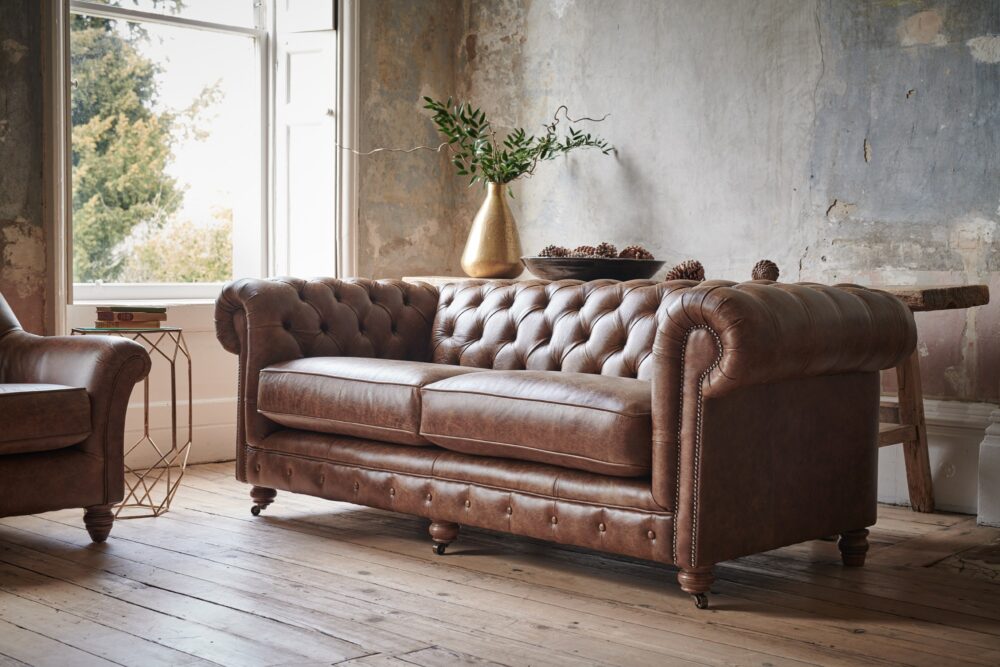 Perfect for classic Chesterfield pieces, our vintage leather creates a waxy, distressed look, further enhanced by the natural markings and tonal variations of each piece. We love the appearance of this leather type combined with our larger designs such as the Grand Chesterfield, Aspen and Burlington.
The naturally aged antique leather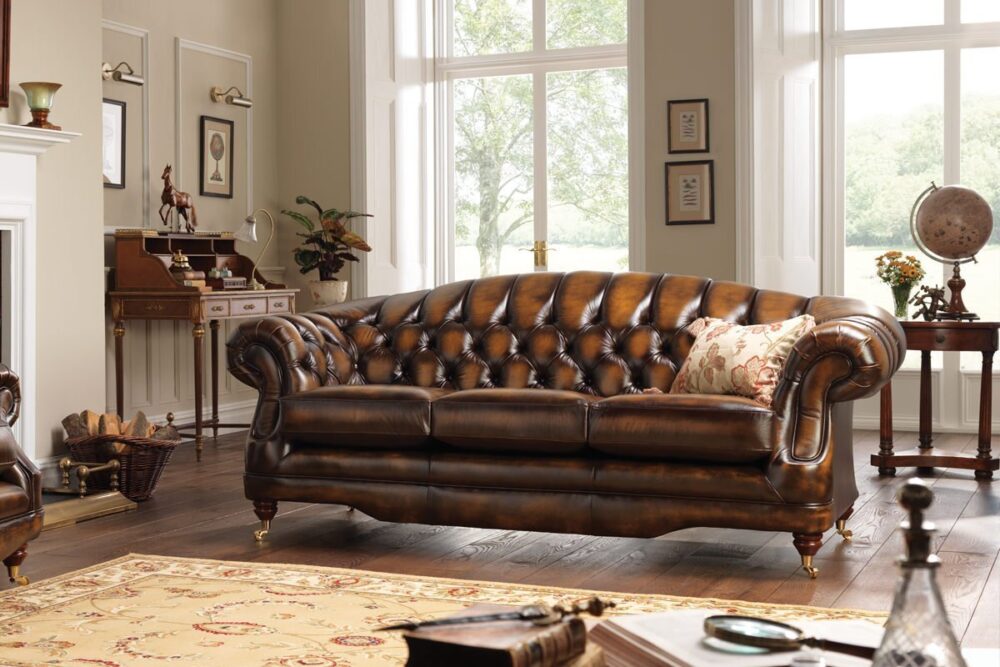 Antique leather is another extremely popular choice for classic leather furniture whose look is often tied with images of Gentlemen's Clubs and Grand Hotels, luxury and exclusivity. We find it's a great match for our more traditional pieces which suit an aged look, such as the deep buttoned Chesterfield, Regent, Senator and Victoria designs.
The softer, matt Milton leather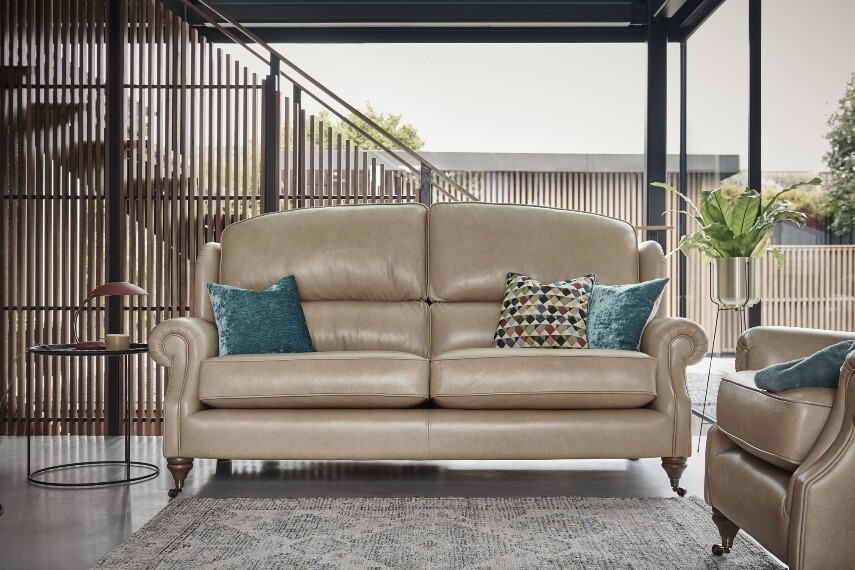 Our Milton leather is more versatile when it comes to colour variations. Its less formal look is a great match for modern leather furniture designs such as our Earl or Darcy. You can also add a contemporary touch to one of our deep buttoned models, like the Grand Chesterfield, Lincoln or traditional Chesterfield by choosing the Milton as an alternative leather type.
The buffed, velvet-like Tempest leather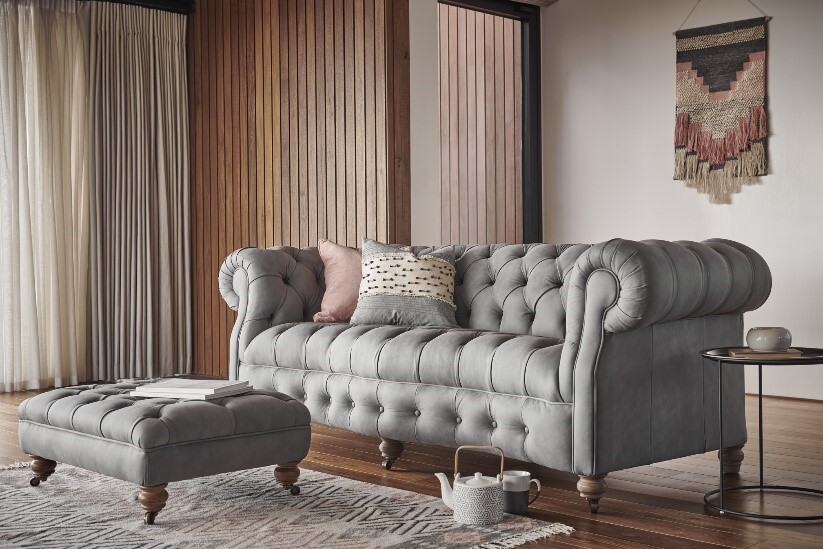 The Tempest is one of our more unique leather types. It has the luxurious, velvet-like look and feel of nubuck, paired with the sturdiness of leather. Both modern and traditional leather furniture looks great upholstered in this type of leather, especially when combined with cotton and velvet textiles. Our Monty sofa is a perfect specimen for showing off the buffed appearance of the Tempest.
The natural, distressed Blake leather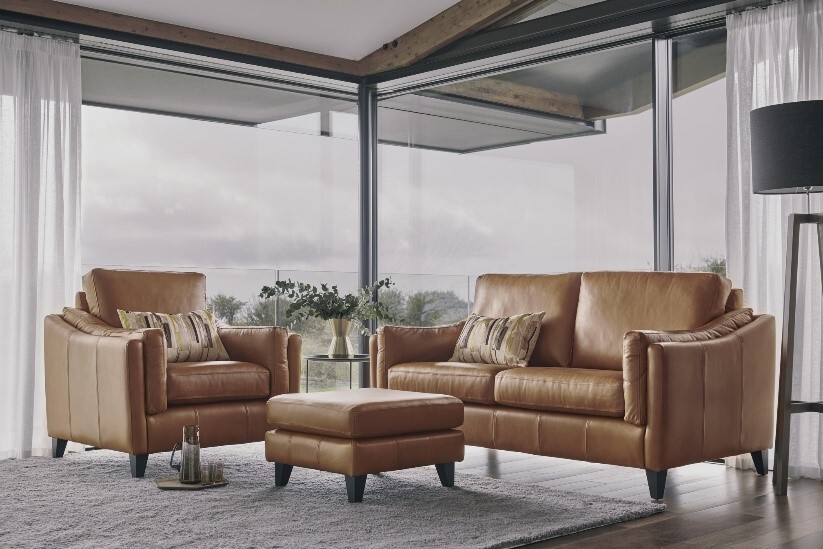 Last, but not least, we have the sumptuous, pure aniline Blake leather. The soft, smooth feel of the Blake combines perfectly with its distressed appearance, enhanced by the natural scars and marks visible on the leather. Perfect for bold, contemporary pieces like our Henry.
Have your sights set on a leather type? Contact us to place a bespoke order.