Make a seating statement with handmade leather furniture with discounts for all contractors and commercial customers
Thomas Lloyd are a leather furniture manufacturer with a reputation that spans 35 years. With our distinctive Chesterfield sofas and designer leather furniture, we offer a collection of signature furniture for bars, restaurants, pubs and hotels that never fail to make a statement.
Included are some examples of our bespoke Chesterfield sofas, in unique customer colours, supplied to a night club in Portofino, an office complex in Bahrain and the Vale Resort's Champagne Suite, recently home to the Wales and British & Irish Lions rugby teams, the England and Pakistan cricket teams and Juventus FC during the Champions league final.
Bespoke leather sofas for architects, interior designers and specifiers
If your blank canvas is crying out for a piece of handmade leather furniture, then let the Thomas Lloyd range of vintage Chesterfields and leather suites inspire your designs. Filling a home with Great British Quality is what we do best, and our timeless pieces are always enviously admired, and often our best-kept secret!
Let your customers curl up in comfort and let the pressures of the day melt away with one of our luxurious leather sofas. Whatever your interior design style, Thomas Lloyd offers an extensive collection of leather sofas to adorn any home or hotel, and suit any taste.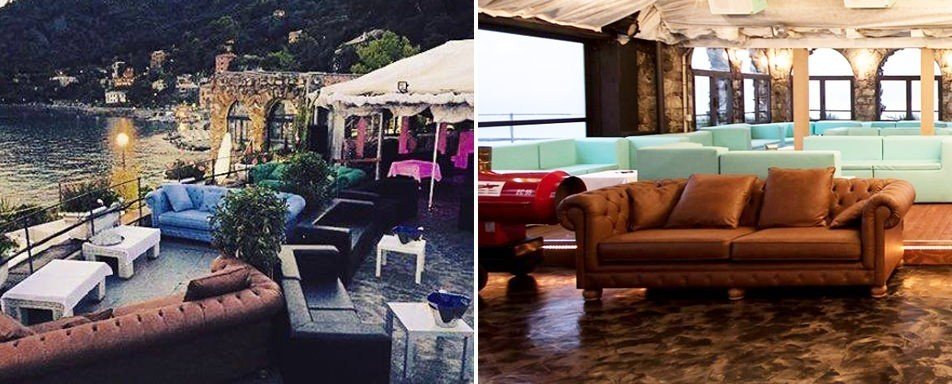 Chesterfield sofas for bars and restaurants
Whether you're looking for sofas for bars or sofas for restaurants, we offer leather furniture seating and unique sofa upholstery options to help you achieve your desired look. Thomas Lloyd have the experience and design expertise to help you make the most of your bar and restaurant space.
Bulk order leather furniture for golf courses and clubhouses
Create a relaxed atmosphere and let your golf club ooze sophistication with a leather Chesterfield sofa. Our incredibly popular range of vintage and contemporary leather sofas for golf clubs are increasing sought after by those seeking a fresher take on traditional design style.

MOD contracts and Officers' Mess
If you are looking for a quality, value for money Chesterfield sofa for your Officer's Mess, then why not browse our range of stylish options that won't fail to enhance the character of your building?
Our trade discount can be applied to your MOD contract to ensure that you make maximum savings on sofas that have maximum impact.
Foreign Embassies
Thomas Lloyd flies the flag for Great British craftsmanship, exporting leather Chesterfield sofas to adorn the reception areas of homes, hotels and offices all over the world.
The quintessentially British Chesterfield sofa has recently enjoyed a resurgence in popularity. With it's stylish sophistication, a leather Chesterfield is the ultimate prestige seating that you'd expect to see in a Foreign Embassy.
Shop fitters – Discounts available for leather furniture for restaurants, hotels, bars and clubs
The endless search for fresh and creative shop fitting ideas can often end in disappointment when it comes to quality. Let Thomas Lloyd inspire and delight you in terms of both style and quality. Our timeless furniture designs provide a versatile option for creative leather sofa furnishing so that you can create a unique seating concept for each and every one of your commercial customers.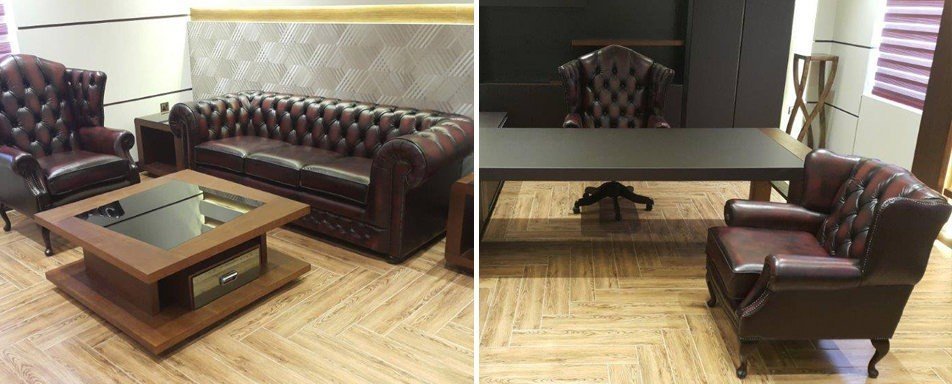 If your customers have to wait around, why not let them sit on your reception sofas in style? Many of our hotel sofas and leather waiting room chairs are compact, modular and perfectly suited to the smallest of lobbies or waiting rooms. If space is not a limiting factor, our two seater leather sofas and three seater leather sofas offer an air of refined luxury.
Bespoke leather furniture design service for interior designers
As designers and manufacturers of bespoke Chesterfield sofas, we can offer you service that's a cut above that of any other furniture retailer. Whether you're looking for a particular leather Chesterfield sofa colour to match your brand, or something a bit more unique that will help your establishment stand out from the crowd – Thomas Lloyd's bespoke Chesterfield sofas can help you put your stamp on your sofa and tick all the boxes for your target market. And if you're wondering why you should choose Thomas Lloyd over any other bespoke leather furniture manufacturer, then come and see the quality of our awe-inspiring leather furniture for yourself and visit our factory showroom in Wales.

Looking to place an order for bespoke leather furniture?
If you're dreaming of Chesterfields, designing your next project or just waiting to fill a room with luxurious leather from our vintage, antique or softgrain collections (above) – why not talk to Thomas Lloyd for your sofa bulk orders? Simply pop your details in the form below, and our friendly and knowledgeable trade team will be in touch to answer any questions you may have.