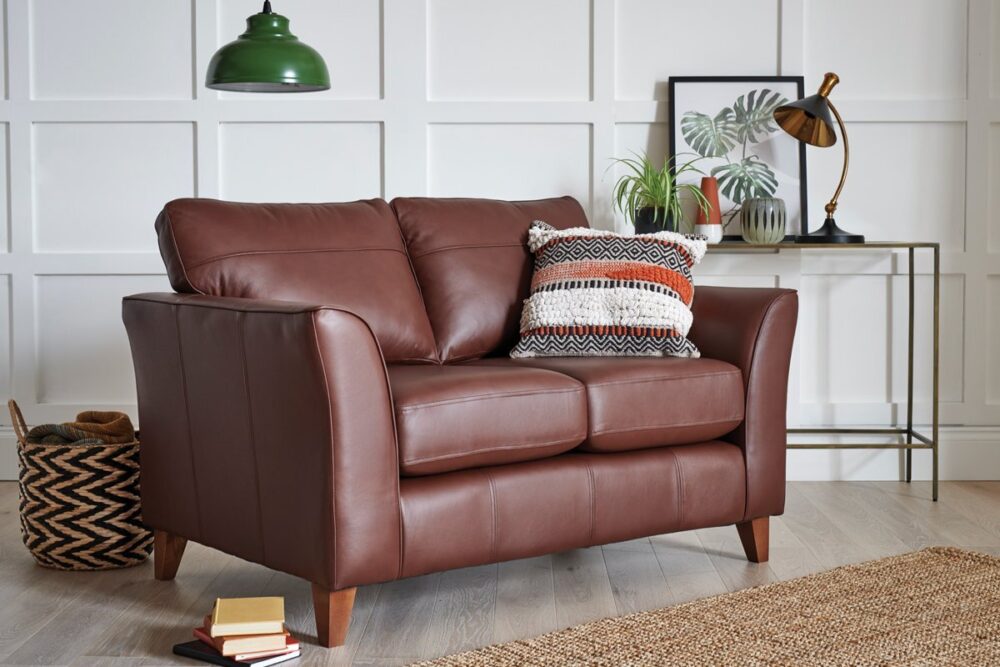 Malmo Leather Sofa bed in Softgrain Mocha
The one piece of living room furniture that's most famous for its multi-functionality is the sofa bed. Providing a comfortable seating area during the day, the sofa bed doubles as a snug mattress at night. But which sofa bed to buy so your interior design remains on par?
Forget what you know about the unsightly futons of the 80s – times have changed, and with them – sofa beds. The notorious lack of style has been replaced with stunning aesthetics, the springs poking your back done away with in favour of a cloud-soft sleeping surface. Marrying up style and substance, a sofa bed is the perfect addition for homeowners working around space restrictions or hosting people overnight on the regular.
With so many options now available on the market, you find yourself asking: which sofa bed is best?
Thomas Lloyd's sofa beds come with all their expert craftsmanship and are the highlight of any living room, but also handy and comfortable for guests. Made with the same highest quality material as the rest of our sofas, your Thomas Lloyd sofa bed is guaranteed to serve you well, the hardy leather withstanding constant use and the test of time.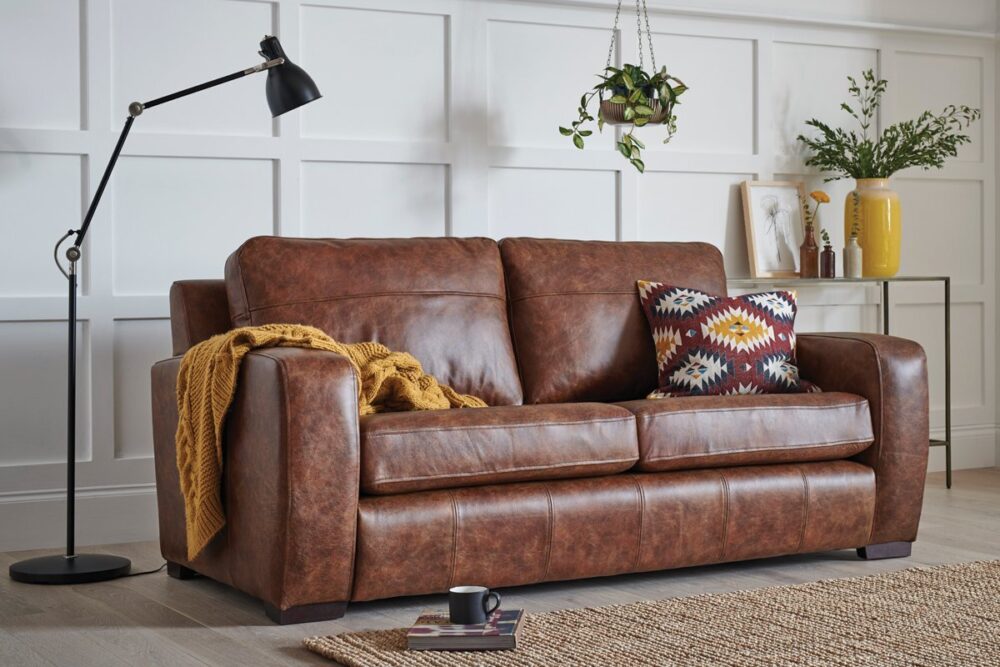 Mezzo Leather Sofabed in Softgrain Mocha
Coloured leather sofa beds
Our sofa beds are available in a number of different styles and colours, so you are sure to find a match for your interior design, whether your home is modern or traditional. From the classic deep brown of the Chesterfield to the luxury red, subtle grey or eye-catching blue or green, you have a range of sofa bed colours to choose from.
Order a free sample of the material to see how it goes with other furniture.
How our sofa beds are made
Caringly handcrafted in the tradition of Thomas Lloyd, our sofa beds are made in house from start to finish, with great attention to detail. Putting the skills of our UK craftspeople to use and ensuring our standards of quality control remain unrivalled, each of our sofa beds is made into a design masterpiece.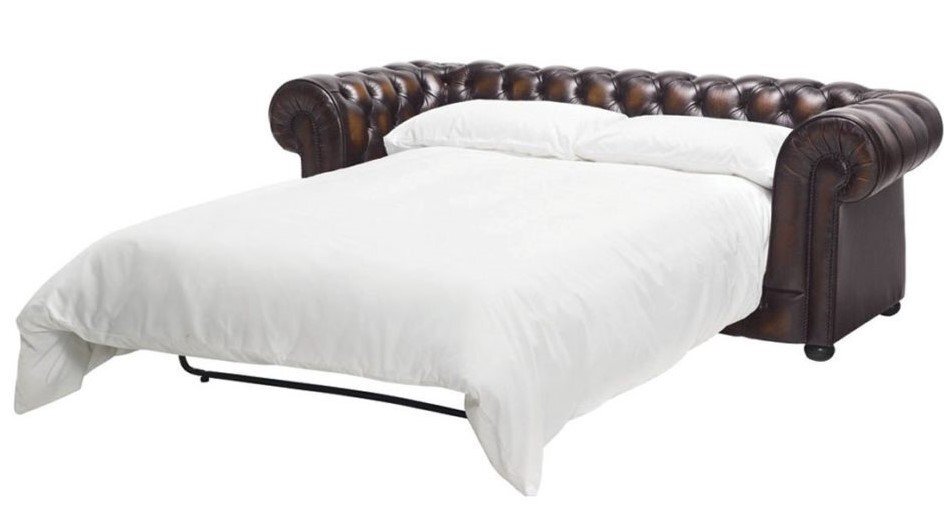 Chesterfield Leather Sofa Bed in Antique Brown
To create this stunning Chesterfield sofa bed, for example, we have put together injection-moulded foam seat cushions, studded front facings and fully upholstered hand-buttoned arms, seats and back – all filled with heavy gauge serpentine steel springing, into European-sourced hardwood frame. The sofa bed is then mounted on natural polished hardwood feet, its superior antiqued leather carefully rubbed back to highlight the appearance of ageing.
Direct-from-factory savings
In addition to the unrivalled craftsmanship and careful manufacturing of our sofa beds, we also keep costs low by selling directly from the factory, offering reasonable prices that would suit any budget. We don't sell any faux leather sofa beds – all our traditional furniture is made from 100% genuine leather, which contributes to the exceptional quality of our sofa beds, matched by few.
Constructed in a genius way by our experienced craftsmen, our sofa beds maintain the classic leather furniture style that makes Chesterfields and modern sofas alike the focal point of any room. The stunning designs are combined with the practicality of a pull-out mattress to create a range of Thomas Lloyd sofa beds looking good and allowing your guest to sleep in comfort.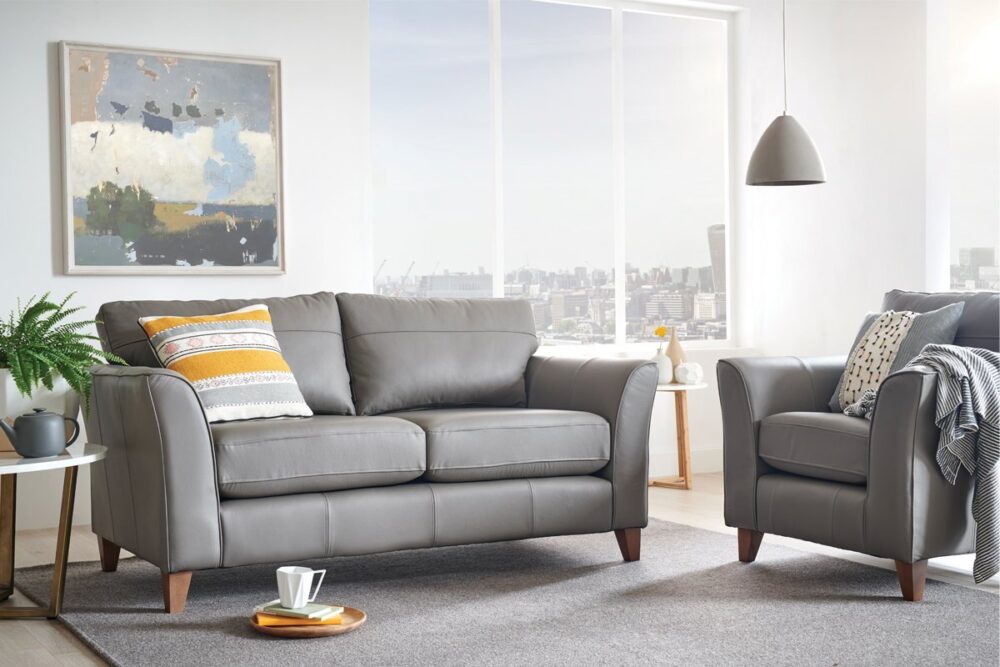 Malmo Leather Sofa bed in Softgrain Grey
Stylish, real leather sofa bed for compact spaces
When you are using sofa beds for small spaces as a way to create a more airy feeling in your guest room, you should consider a couple of things. First, make sure you the room allows enough space for your sofa bed to stretch out fully – our team can advise you on the sofa length if you are unsure.
You should also think about what the primary use of your sofa bed would be. You could opt for having a sofa bed instead of a regular one in your living room, where it can double as a guest bed when needed.
Alternatively, if you are furnishing your new home and want to convert a modestly sized room into a more private space to host your guests, a sofa bed is the perfect choice – it can fit flawlessly into any décor, and would serve both as a daytime lounge spot and a comfortable bed for the nights.
Thomas Lloyd collection of sofa beds:
Our generously sized, top quality leather sofa beds are equipped with dreamy-soft mattress to provide the perfect two-in-one furniture piece for your living room or guest room. With a variety of stylish modern and traditional choices available in a range of colours, you can have a browse and decide which sofa bed is best for your interior décor and space requirements.
From our popular classic Chesterfield range, comes the Chesterfield Leather Sofabed – an elegant antique sofa by day, a comfortable bed by night.
The Malmo Leather Sofabed is perfect for hosting guests in style and makes a fabulous addition to any contemporary designed living room.
Easy to convert from a tasteful minimalist settee to a comfortable bed, the Mezzo Leather Sofabed will be the perfect centrepiece of your modern living room.
Add a touch of elegance to your home while making the most of the space with the Thomas Lloyd range of leather sofa beds.