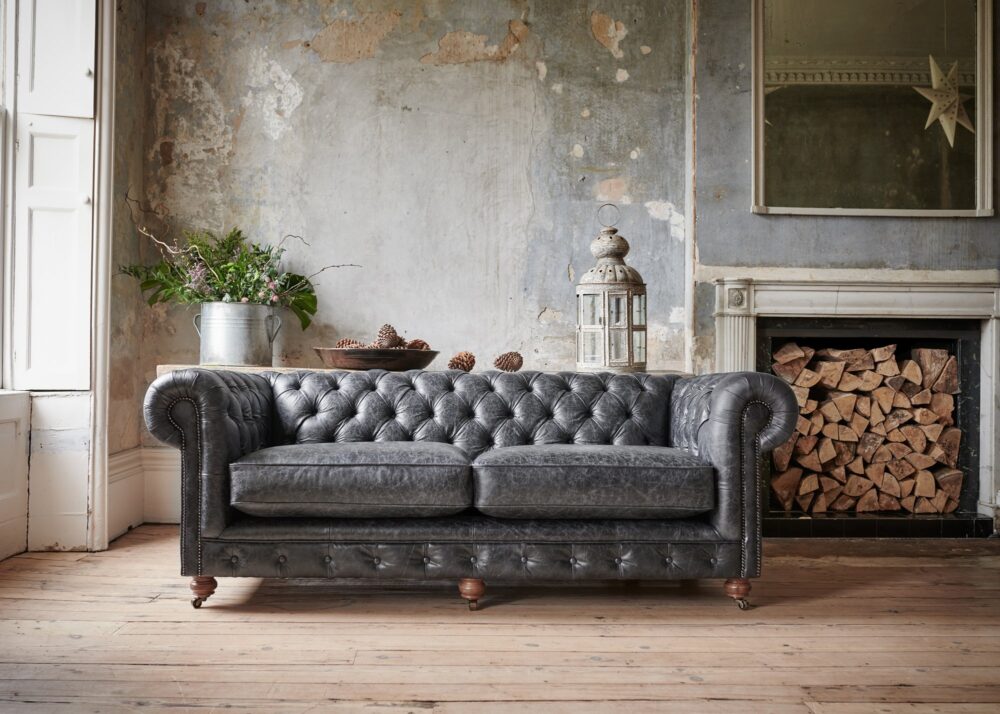 Vintage Chesterfield 3 Seater Leather Sofa in Slate
Country cottage style brings rustic comfort and style to your home through retro touches, floral accessories and compact furniture pieces.
Get the homely look with our country cottage living room checklist:
Pastel or grey buttoned back sofa
A light colour button back Chesterfield is a bold focal point that won't disrupt the harmony of your cottage style living room. The classic look of the Chesterfield tufted details instantly draws attention and creates a sense of luxurious simplicity.
High back buttoned sofas tempt you to lean into the comfort and snuggle up amidst the deep cushions, while the elegant curved arms maintain the soft visual flow of the room. What's more, Chesterfields don't need bold colours to look splendid – a grey buttoned back sofa perfectly balances style and gentleness.
Bonus: A matching upholstered footstool, such as our Vintage Chesterfield Leather Footstool,  emphasises the invitation to put your feet up and relax.
Are button back sofas comfortable?
As well as being a hallmark of ageless style, our Chesterfield sofas are known for their unrivalled comfort and quality. Upholstered with the finest supple leather, the sumptuous buttoned back sofas are filled with high-grade foam and self-supporting springs for utmost cosiness.
Flowing floral fabrics
Your living room curtains and cushions are where you can go all out with the floral theme. Create a cohesive look by picking cushions in matching pastel tones, layering different fabrics and alternating patterns. For the curtains, choose something floor length and flowing to boost the comfort in the room by keeping drafts at bay.
Bonus: Keep warmth at arm's reach by scattering soft patchwork throws on your high backed buttoned sofa and across your living room.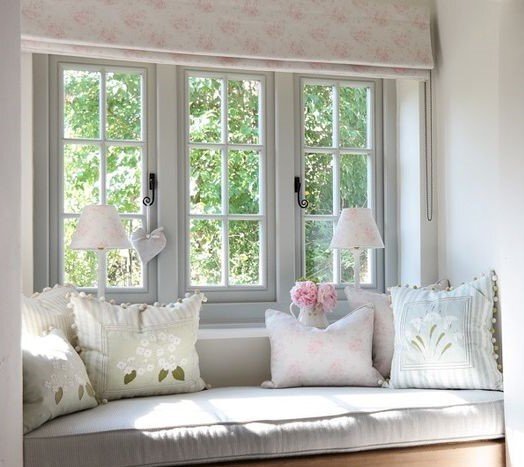 This spread from @littlebirdcottage features charming floral curtains and cushions
Ambience lighting
Curling up with a good book is a vital part of the homely experience, and avid readers need plentiful light. Choose a timeless design that blends in with the soft, rustic cottage look of the room. An added bonus is having an adjustable light for those cosy evenings spent on the sofa.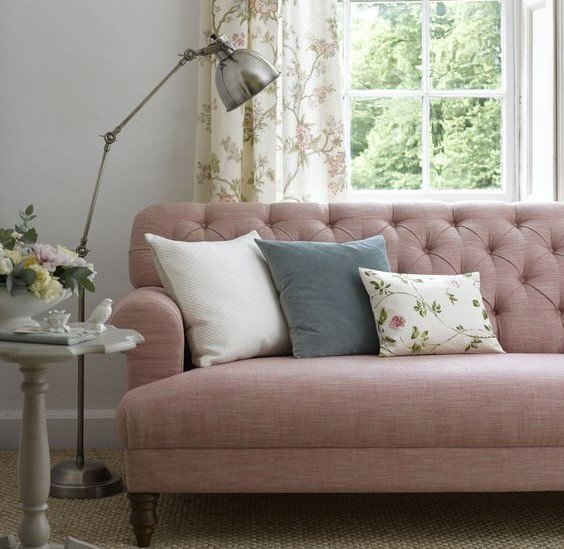 House Beautiful UK featured this gorgeous adjustable lamp
Warm shades of paint
You can achieve the brightness and welcoming feel of a country cottage with paints in warm tones. Play around with combinations of timeless off-whites, dusky pinks, calming light greens and the classic country-style pastel blues to give your living room a soft radiance.
Bonus: A rustic feature wall combining retro travel shots and vintage floral prints with antique pieces creates authentic homeliness.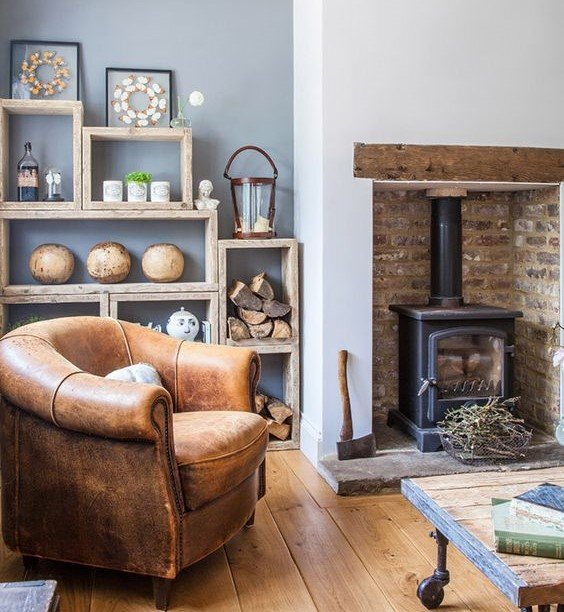 Featured by Quercus Living, this country cottage living room mixes off-whites and soft blues
Your cottage style living room will welcome guests with a feeling of calm and wholesomeness. Add a touch of the country style's distinctive laid-back charm with one of our cosy button back sofas.