With the season of house renovations and décor makeovers upon us, there's no time like the present for another instalment in our interior design 'How to' series. This month we're focusing on the Georgian design style and how to best blend vivid colours with the delicate Palladian grandeur typical for the period.
What is Georgian interior design?
To better understand the style, let's take a look at its origins. As the name hints, the Georgian period describes the decades between 1714 – 1830, which saw the rule of four King Georges in succession. The interior décor style inspired by the era can be distinguished by its elegant grandeur and timeless sophistication.
Inspired by the Palladian style of fashionable Italian towns of the time, the interior design trend spread to England through wealthy travellers before expanding to other parts of the world as well.
The main focus of Georgian design is creating a feeling of space and balance. High ceilings and uncluttered décor meet detailed furnishings, symmetrical layouts and balanced proportions to paint a picture of delicate purity and order. This interior style is perfect for creating an atmosphere of harmony in both traditional and contemporary settings.
How to create a Georgian living room?
As we mentioned above, the Georgian design style is all about harmony, so when you're decorating your living room, you should focus on proportions and space rather than excessively elaborate furniture and restrictive colour palettes.
Here are some of our top tips for decorating a Georgian living room:
Coordinate your colours
Georgian décor is all about subtle shades – popular wall paint colours include off-whites, greys, pale blues and greens, including the stunning 'eau-de-nil' shade of pale green. Fans of richer colours can experiment with deep blues and indigos, which also fall into the palette of the design style, or warmer shades such as muted pinks and yellows.
The key to achieving an authentic Georgian look for your living room is coordinating the colour of your walls with the floors and furniture. This includes painting skirting boards, doors and window frames in similar tones, as well as choosing seating and accessory designs in the same palette.
Don't be afraid to experiment and go beyond the go-to grey used for interpreting historic styles into modern interiors. The airy proportions and elegance of Georgian décor can accommodate vibrant shades beautifully. In fact, many wealthy homeowners from the period would forego gentle pastel colours and opt for bright, daring tones that leave a lasting impression.
Furnish with the flow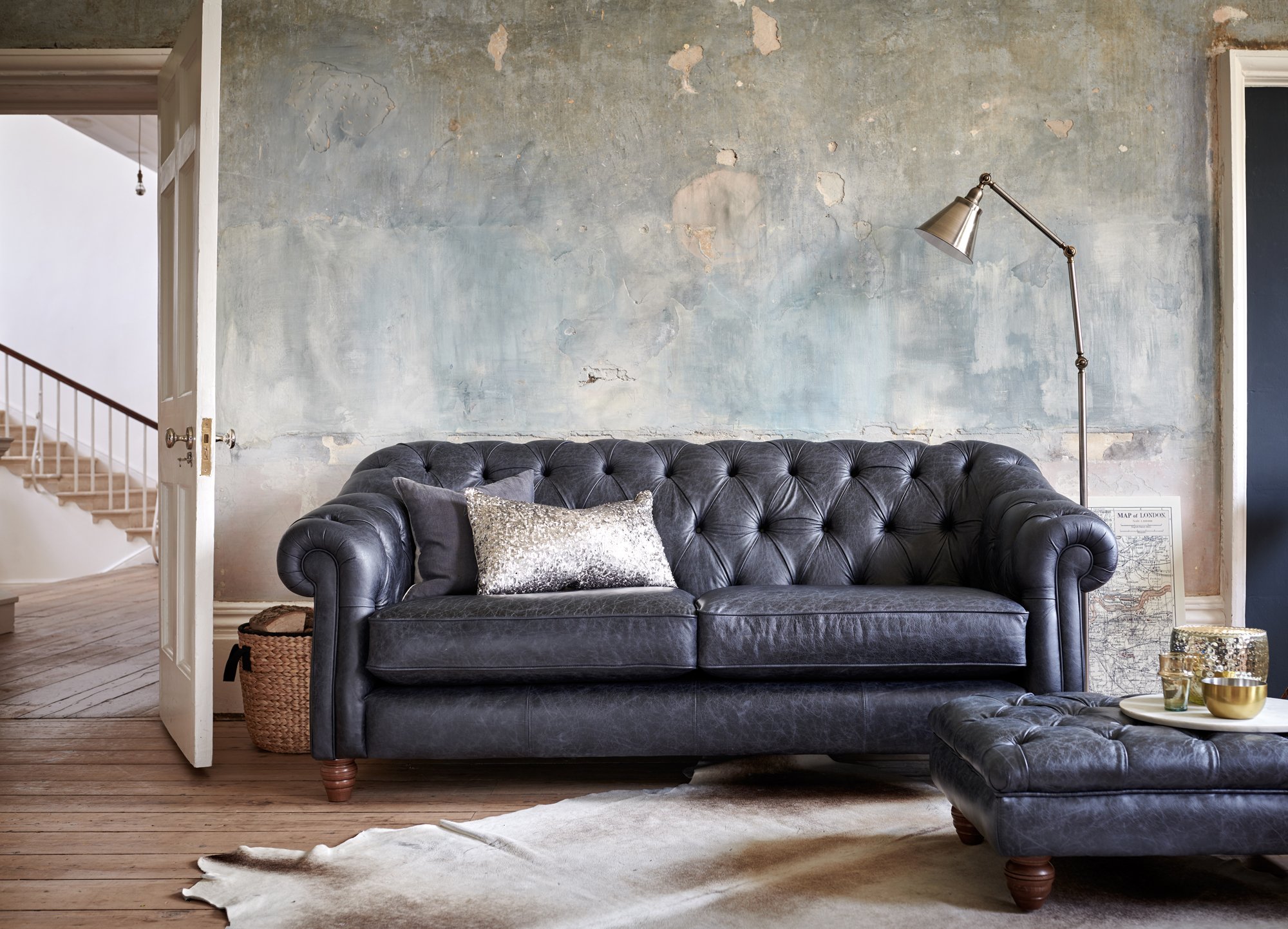 Belgravia 3 Seater Leather Sofa – Vintage Slate
Choosing the right furniture and accessories is another important step – while you don't want anything too elaborate, a selection of sophisticated seating adds an extra layer of elegance to your living room.
Chesterfields are a great choice if you are putting together a cosy lounge, and they fit in with all colour schemes. A Chesterfield leather sofa creates an elegant interplay between periods and sets your living room apart by becoming a focal point for your guests' attentions. The sumptuously curved arms and elegant edges of the leather sofa offer a classic look and unparalleled comfort.
While you have a choice of various colours when it comes to Chesterfields, the classic light or dark brown leather shades are also an excellent choice for a Georgian living room. Alternatively, a grey leather chesterfield can still provide a Georgian feel but with a slightly more modern look. The organic tones will add both warmth and character to the space, drawing guests in and creating a sense of intimacy in line with the flow of the overall décor.
Finish the look off by selecting fabrics in the same tones as the rest of the space – this includes pillows and throws scattered around the sofa to amp up the comfort, as well as rugs and curtains which tie in the whole look. Tartan patterns, for instance, are a great choice if you want to create a cosy hunting cottage feel!
Light the room up
The Georgian style places great importance on illuminating your living room as much as possible and keeping the space warm, as evidenced by the fireplace being a focal point in every Georgian house. If you are working with original Georgian architecture, you can incorporate its original design features into your vision for the living room.
Alternatively, you can create a similar look by giving your non-Georgian fireplace a marble effect finish in line with the trend of the period. Contemporary homes that lack a fireplace altogether can be decorated with brass lanterns and Rococo chandeliers to achieve the same radiant brightness effect. Plenty of mirrors positioned on the wall across from the windows are also a great way to illuminate every corner of your living room.
Nail the floor finish
Last but not least, take your decorating gaze down to the floors. For the Georgian look of your living room to be complete, you need to make sure the flooring is right. We suggest opting for waxed wood (or parquet) that you can pair with a large oriental or neoclassic rug for a truly regal Georgian look. If wooden floors are not to your taste, you can make your living room more luxurious with stone or marble floors (a cost-effective alternative to this option are stone or marble effect tiles).
A wall to wall carpet in light, neutral colours is also a great choice – it's both in keeping with the vibe of the era and warmer on your feet! Should you decide to go down this route, make sure any patterns on the carpet are delicate, and the colour palette is in the same tones as the rest of the living room.
Sign up to our newsletter for more interior design insights and ideas for decorating with leather furniture.