We dive into the basics of the eclectic aesthetic and round up the key tips for getting the look in your living room:
What is an eclectic interior design?
Unlike most interior designs, which are rooted in particular time periods or cultures, in relation to home décor the term 'eclectic' is used to describe a style that combines elements from various eras and trends, mixing colours and textures into a heterogeneous blend.
The main thing that sets a refined eclectic living room apart from a random, haphazard one is the unifying motifs that can be spotted across the space. Don't let this put you off! Far from being an unattainable dream look that only the most interior design savvy can achieve, a classy eclectic living room can be created using a few key tricks to keep the space cohesive.
Below we've listed the main boxes you need to tick to make the eclectic look work for you and harmonise otherwise disparate old and new pieces.
How to create an eclectic design living room?
Choose your theme
It's all about finding the common theme that ties the different interior elements together. New and old pieces of furniture, bold décor and the foundations of your room can blend seamlessly together if you find a uniting pattern, colour, material or finish.
Remember, not everything has to be a perfect match – in fact, that would go against the eclectic aesthetic – but choosing a unifying thread that holds the look together (e.g. shades of brown) will help guide going forward.
Play to your home's strengths
This piece of universal interior design advice is even more relevant when creating an eclectic living room. Before you get started, consider your home's architectural features and heritage. If you live in a period home, for example, you can use the style of the era as a basis you can build upon with a mix of matching and contrasting pieces. Period features such as high skirting boards and sash windows, for example, make the perfect backdrop for modern textiles and decorations.
Perfect the placement
Before you dive into coordinating colours, fabrics and patters, take some time to consider the layout of your living room. Determine where you want to position each key piece of furniture so the place feels inviting and comfortable. Once you've nailed that, you will know how much space you have left for eclectic style accessories such as a vintage side table or a contemporary floor lamp.
Create a contrast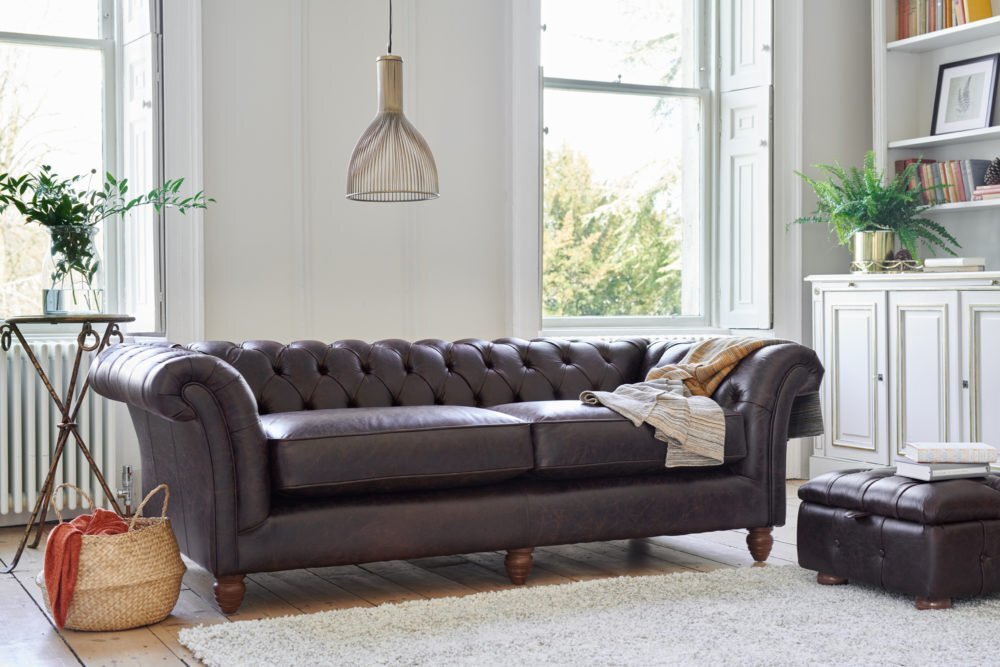 Cambridge 3 Seater Leather Sofa
This is where the real fun begins. As we mentioned above, the right dose of contrast is essential in creating an eclectic living room. A great way to tie in the old with the new is by taking a piece of traditional furniture, such as a leather Chesterfield sofa, turning it into an ornament that serves as the focal point of the space. You can then offset the classic sofa design with modern furniture such as an industrial style lamp or a chrome coffee table.
Turn up the textures
An eclectic living room is the perfect playground if you want to experiment with textures. Pick a subtle colour scheme, then mix in rough and smooth materials to add dimension to your interior design. Woven throws, velvet cushions, and shaggy rugs are a fantastic juxtaposition to soft metal finishes and the natural feel of wooden pieces.
Top tip: To maintain the cohesive look, pepper the same textures a few times across different areas of the living room.
Hold back on the backdrop
The key to keeping your eclectic living room from becoming overwhelming is leaving the floors and walls neutral. There's already a lot going on with furniture and décor to hold the interest of visitors without bright walls or busy wallpapers. Pastel palettes such as creams, beiges and browns make for the perfect backdrop to ornate furnishings.
Top tip: You can give the gaze extra space to rest by leaving some surfaces empty.
Control the clutter
Don't use the eclectic aesthetic as an excuse to enable clutter. While the style is all about mixing different looks, remember the theme we mentioned earlier? Displaying your entire collection of trinkets will almost certainly make the space look busy (at best) and confused (at worst).
Top tip: Choose a couple of stand-out pieces that tie in with the overall motif and stick with these – after all, less is more, even in an eclectic living room.
Sign up to our newsletter to get more interior design tips and inspiration for decorating with leather furniture.