The combination of blue and white is an appealing one for interior design in general, and especially so for the summer days which invite more light into your home – the colour palette creates a natural feel of serenity, elegance and simplicity which pleases the eye. Generous use of white and blue toile fabrics is an additional way to give your living room a sophisticated, French style look.
Instead of completely changing the upholstery of your chairs, or repainting your walls blue, you can get the timeless coastal look by introducing cushions and rugs in navy and white, as well as a couple of rattan or light wood furniture pieces (covered with sitting cushions in the same palette) to complete the image. Chinese white and blue wares are also a great way to accessorise a living room decorated in a coastal style.
Brown Chesterfield sofas look great covered with casually strewn around white and blue cushions in different patterns, complemented perhaps by a light throw in monochrome in case the night gets chilly as you're enjoying a book or a glass of wine on the sofa.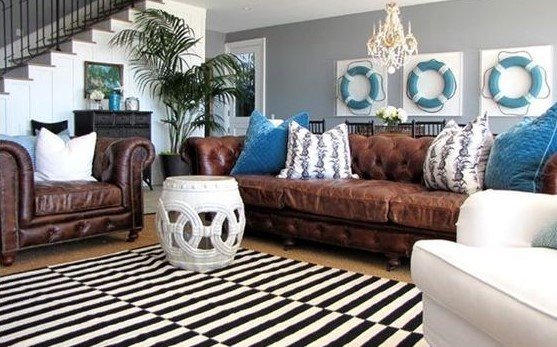 Image courtesy of Pinterest – Browse our Coastal Style Board
In many ways this interior design is the middle ground between the serene and simplistic coastal style and the colourful opulence of Moroccan decorations. Originating from countries north of the Mediterranean Sea – Spain, Italy, Greece – the style is a mixture of colours echoing the sea and sky combined with more earthly tones specific to the region – like terra cotta, yellows and lavender.
Turn your living room truly Mediterranean by bringing natural motives inside – when selecting rugs and cushions for your design makeover, make sure to focus on colours inspired by nature, combined in detailed patterns and textures – that way your brown leather sofa will fit right into the overall style of the room effortlessly.
Accessorise with materials which fit the overall natural theme – bronze urns and figurines, ceramic and terra cotta pottery, wrought-iron candle-holders and side tables. Combine with light cream curtains to achieve airiness and brightness in the room, and soft rugs to give it the typical Mediterranean inviting and charming feeling.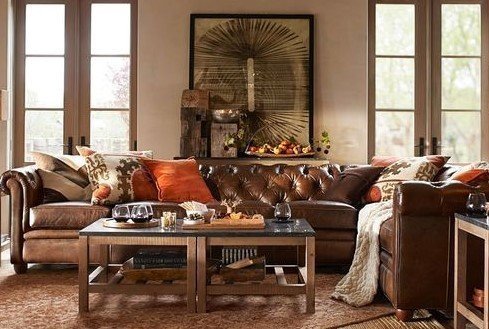 Image courtesy of Pinterest – Browse our Mediterranean Style Board
To truly achieve a Moroccan feel in your living room, the key thing is to invest in a whole lot of patterned cushions, carpets and rugs, especially ones with mosaic pattern.
Cover your brown Chesterfield sofa, along with every other seat in your living room with cushions and colourful throws, and arrange metal ornaments (especially in golden yellow and silver colours) on the surfaces to add an even more traditional touch – a Moroccan lantern, for instance, makes a great and inexpensive tea-candle holder for your coffee table.
If you feel like splashing out on your Moroccan makeover, you can even purchase a couple of decorative vases, metal lamps, Moroccan poufs, perhaps even a carved wood kitchen table to complete the look.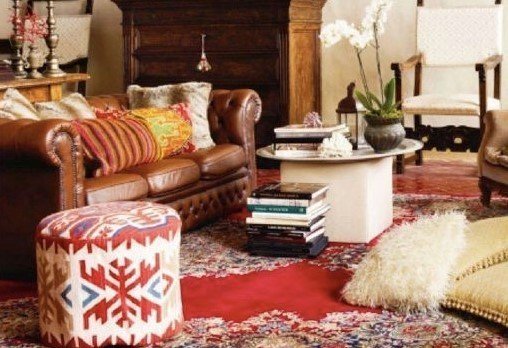 Image courtesy of Pinterest – Browse our Moroccan Style Board
If these interior decoration ideas have inspired you to give your living room a thorough makeover, and you find yourself in need of a solid and timeless centrepiece, look no further – browse our full range of traditional leather sofas and contemporary Chesterfields.