1. The story you're telling
When you are opening a new restaurant, you are essentially building a narrative for your guests – everything from your interior design choices to your menu and your choice of music and lighting should flow seamlessly to create the right atmosphere and evoke the right emotions. This is especially important to consider when choosing seating for your restaurant or cafe – whatever your choice of interior design, your furniture should match the overall story of the space.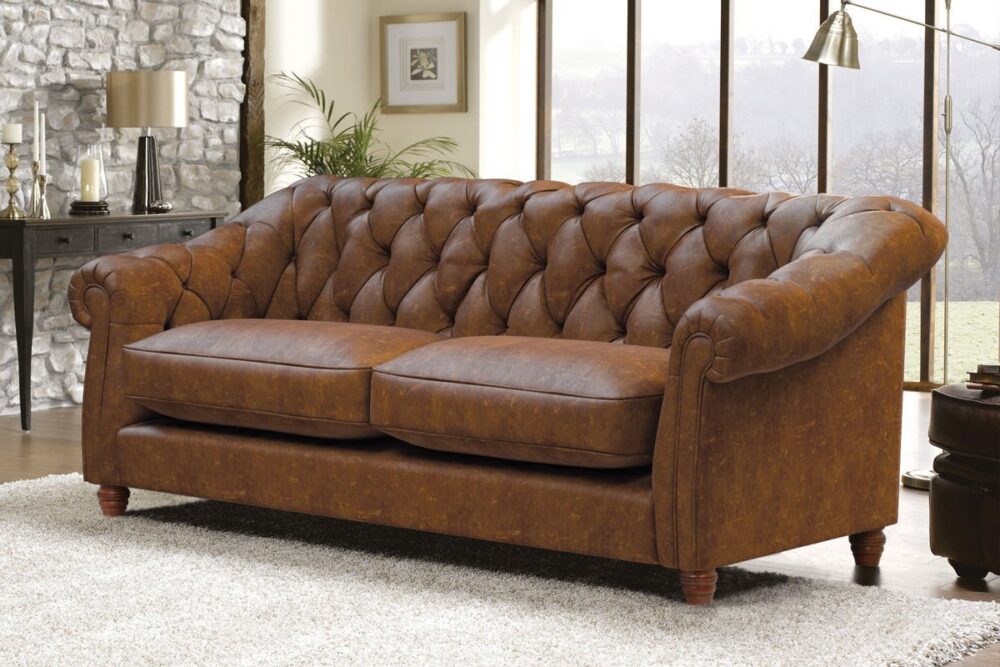 Belgravia 3 Seater Leather Sofa
Leather Chesterfield sofas are a great choice for restaurant seating, as they can be incredibly versatile. Whether you are looking for more contemporary leather furniture to fit with your minimalistic, trendy vision for the space, or you'd prefer to create a more classically comfortable vibe, complete with traditional or vintage leather sofas, there's a leather Chesterfield range to meet your needs.
2. The seating experience
In addition to working seamlessly with your interior design, your restaurant furniture should also provide guests with a maximum level of comfort – especially if the establishment encourages lengthy meals.
Consider matching practicality with comfort: for example, if you are running a family restaurant or casual dining space, you would may want to provide spacious booths. Not only is this a comfortable layout which allows guests to take their time with their meal and relax, it has also become a classic configuration for diners and family restaurants.
Large, soft leather sofas are an ideal solution for booth seating. For one thing, leather seating is considerably easier to maintain and can be cleaned much quicker than fabric alternatives. What's more, leather sofas, with their luxurious arm rests and high quality, soft cushions, are much more predisposing for guests to lounge and enjoy a further couple of drinks than dining chairs.
3. The test of time
One feature of particular importance for your restaurant, both in terms of interior design and budget, is the durability of the furniture you choose. Some furniture, while exceptionally stylish and well-suited for home décor, is not suitable for commercial use. That's why it's always good practice to invest in solid, high-quality furniture with guaranteed longevity rather than buy cheap and spend more money down the line replacing damaged seating.
When it comes to furniture designed for commercial use, nothing is quite as universally suitable as the leather Chesterfield sofa – with unrivalled reputation in the field of leather furniture, a high-quality Chesterfield leather sofa guarantees comfort that lasts a lifetime, thanks to the great care taken when manufacturing them and the exceptional design which won't lose its shape as the years go by!
4. Value for money
When placing an order for restaurant furniture, you want to make sure that you are getting value for your money, or in other words, avoid suppliers who are solely focused on profit and don't take care to deliver high-quality furniture to restaurant owners.
If you are looking to bulk order leather furniture for your restaurant, and you need a trusted supplier, Thomas Lloyd offers a range of bespoke Chesterfield sofas to suit a variety of budgets. Whether you choose from one of the main Chesterfield ranges we have available, or decide to go down a more bespoke route with a more unique solution (perhaps a signature red leather Chesterfield or a leather sofa set in a bespoke colour or material), your sofa will always be great value for money because they are made to last a lifetime.
5. Quality Guarantee
One of the easiest ways to ensure your furniture supplier caters to your needs and provides you with high-quality furniture is by visiting their website and browsing through their commercial customers portfolio. Look for testimonials of long-lasting reputation and distinctions, as well as versatility in the furniture collections available – all of these are signs that the suppliers will be able to meet your restaurant furniture needs. Better still, why not visit our showroom and feel the quality for yourself? We'll even show you around the factory so you can see how our furniture is made.
Another sure proof that a furniture company is going to provide durable and high-quality products is a clear guarantee. All of Thomas Lloyd's leather furniture comes with a full 2 years manufacturer's warranty as testimony to the confidence we have in the items we produce. As further insurance that we've got your restaurant furniture needs covered, we also have a 21 day 'no quibble' money back or exchange guarantee on all our leather sofas.
To discover more about the Thomas Lloyd range of bespoke leather furniture, or place a bulk order for leather Chesterfields, visit our contractors page. Or, if you are looking to choose seating for your restaurant from one of our already existing ranges, why not browse our collection of Chesterfield leather furniture to find the perfect fit.