It's no wonder the Monk Chesterfield style collection is one of our most popular ranges. It has all the distinctive features of a Chesterfield – gorgeous buttoned designs, soft cushioned seats, luxuriously curving arms and stunning quilted leather upholstery.
The Monk also offers an additional advantage – unlike the classic Chesterfield sofas, which feature the same height arms and back, the Monk's take on the traditional style brings in a high, curving back which envelops guests and owners alike in a sense of decadent comfort. A touch more formal than a regular Chesterfield, a leather masterpiece like the Monk three-seater sofa draws the eye and makes for the perfect focal point.
Just like the rest of the Chesterfield family, our Monk leather sofas are incredibly versatile and look at home in any setting, from traditional stately homes to contemporary loft apartments. Brown is a timeless Chesterfield colour which suits any style of interior design and palette, while bolder colours such as red, blue and green are perfect if you're looking for a centrepiece that stands out.
Big difference in a slender package
Virtually any Chesterfield style sofa looks good in a large, airy room. The beauty of the Monk comes from the fact that it's a narrow sofa perfect for little spaces. While some other Chesterfields can be too deep, even the largest sofa from the Monk collection is very well-suited for space constraints.
Compared to the Grand Chesterfield in size, the Monk three-seater sofa has comparable seat dimensions and a taller back. But it's the width and depth of the sofa where the Monk stands apart as the daintier option. At just 198 cm wide and 99 cm deep, the Monk three-seater sofa can comfortably fit in the more snug areas of your house, doing away with awkward placements without compromising on the luxurious look and feel of a Chesterfield leather sofa.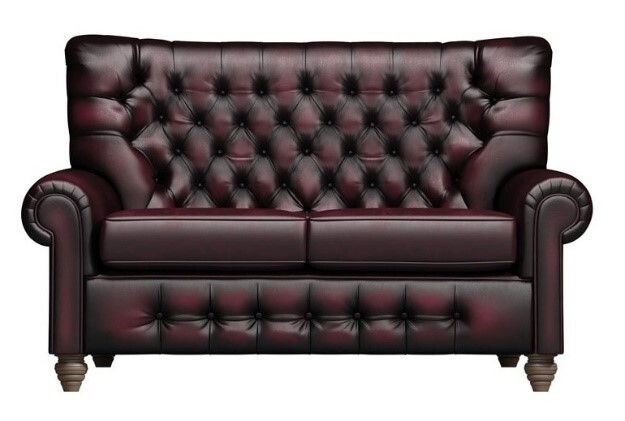 Settee-sized Monk sofa
For even more space savings, we also have the petite Monk two-seater sofa in our collection. Just as formal and elegant as its larger counterpart, this stunning leather sofa will fit like a glove in the smaller nooks of your living room, while still offering plenty of space to seat your guests or enjoy a comfortable lounge.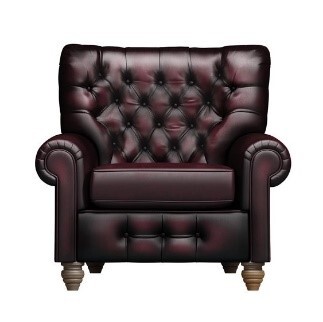 The one-man chair
Nothing packs a stylish punch without taking up much space quite like a leather armchair. Whether you're looking for a standalone piece to take pride of central place in your study, or you need to squeeze in an extra seat alongside your larger Chesterfield pieces from the range, the stylish Monk high back chair is the perfect choice for you.