Undisputedly the happiest nation in the world, Danes seem to draw a lot of their positivity and merriment from their country's famous lifestyle known as Hygge (that's pronounced hoo-gah, if you are wondering).
While the closest English translation of the word is 'cosiness', Hygge is a lot more than that. It's a life philosophy which focuses on simplicity, relaxation and appreciation of the daily pleasures that life offers.
It's no surprise that the trend towards warmth and well-being is taking over interior design. More and more people are trying to capture the feeling of wholesomeness in their home décor. And with the living room as the centre of comfort and relaxation, it's only natural that transformation starts there.
Since effortlessness is at the heart of Hygge, creating a minimalist atmosphere in a soft Scandi palette and infusing it with cosy touches can be fairly easy. Create an inviting bubble of warmth in your home with these seven ways to make your living room more Hygge.
# Achieve more impact with less (objects)
One of the easiest ways to make your living room more Hygge is decluttering your décor. The Danish style is not synonymous with minimalism – rather, it's about focusing on the way accessories make you feel. Display items which have sentimental value to you, or ones that you associate with comfort.
Think about scale as well – instead of having one large focal point, create various 'nests' around the living room. Use accent chairs and small coffee tables to create cosy nooks where you can snuggle up with a book and a steaming cup of tea on a cold day.
# Create easy intimacy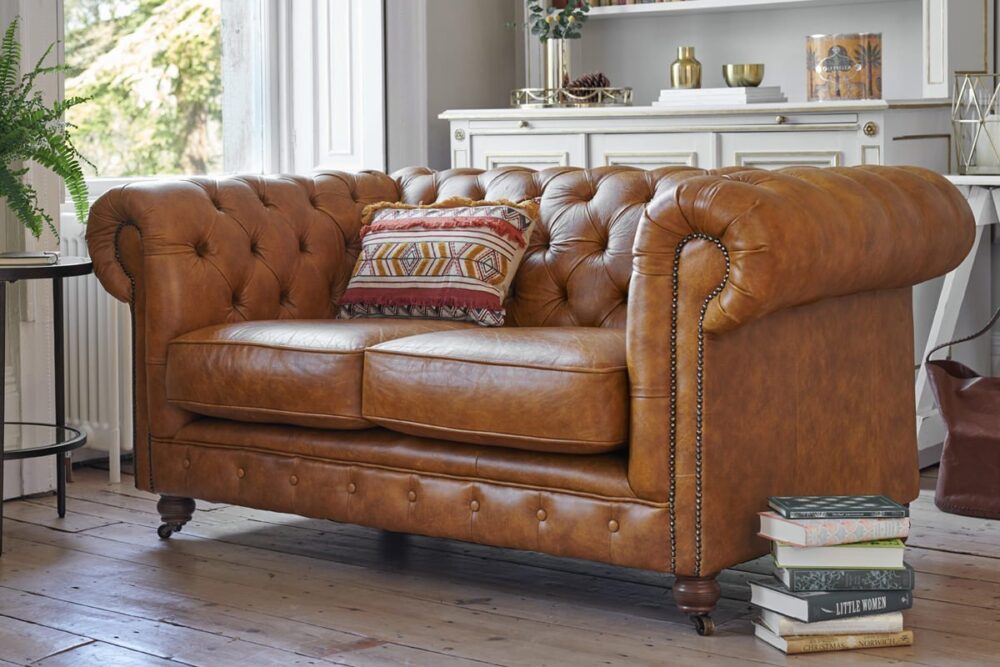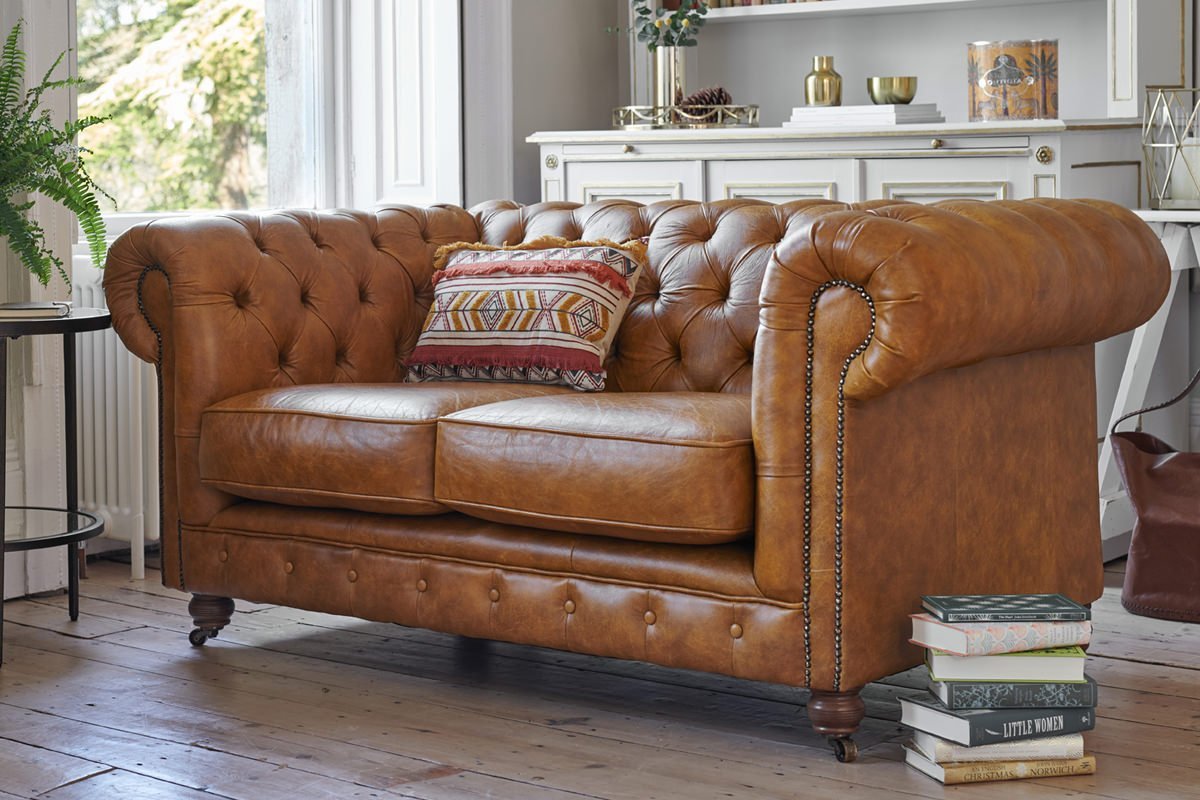 Vintage Chesterfield 2 Seater Leather Sofa
The complete opposite of minimalist décor, Hygge simplicity has living room furniture coming together in ways that has everyone close to each other. Play on the fact that nesting in small places creates a sense of safety and comfort. Assemble seating areas next to a bay window through which you can gaze out, in front of a fireplace so you can watch the flames, or in cosy corners, where you feel protected from all sides.
Loveseats, for instance, are perfect for lounging – whether you have someone to cwtch, or you just crave some extra leg room to better wrap up. Our sumptuous Vintage Chesterfield 2 Seater is a timeless classic, whose soft cushioning and gloriously curved arms make it perfect for unwinding.
# Up the relaxation factor
Big part of Hygge is about treating yourself and making time for things you enjoy. The best way to turn your living room into a place where you can unwind is by reflecting this intention in the interior design of the space.
In addition to a luxurious leather sofa where you and your guests can sprawl, consider introducing a dainty footstool where you can put your feet up physically as well as metaphorically. Our Regent Leather Footstool, for instance, is a great companion to any of our buttoned Chesterfield-style leather sofas and makes for the perfect napping spot if your pet is feeling Hygge too.
# Add some texture
Another important element of the Hygge experience is touch. To boost the feeling of intimacy, introduce some textiles to you living room. Soft rugs, chunky wool throws and pastel coloured cushions will add warmth to the space, making both your floors and your seating that much more comfortable.
And, if you really want to get tactile, invest in natural fabrics that are as nice to the touch as they are soft. Cashmere and organic cotton are some of the many luxe fabrics that will take your living room décor to the next level by introducing an extra sprinkle of indulgence.
# Get together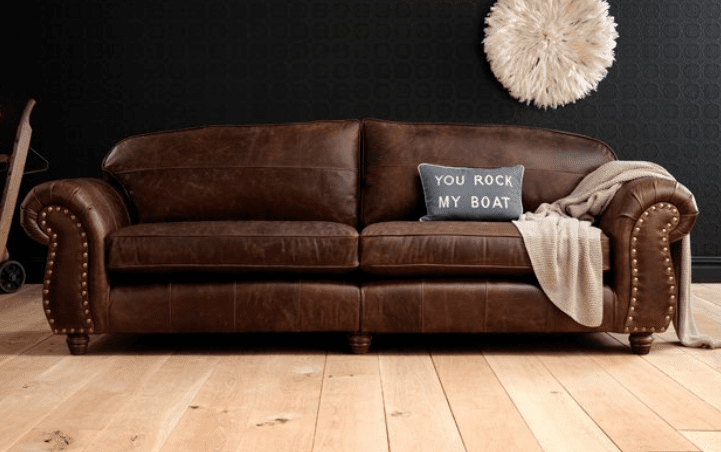 As well as taking some quiet time to enjoy a good book and the pleasure of your own company, Hygge is about making the time to get together with your loved ones. Making your living room a welcoming space where you can socialise is a great way to embrace this side of the lifestyle.
If you have a big family, having a large sofa like our Burlington Grand Leather Sofa where you can all get cosy for movie night is a perfect way to improve your quality time together. If you want to continue the minimalist look, a grey leather sofa can also be a great addition to a modern hygge inspired room. Creating a conversation area by grouping together a couple of smaller sofas around a petite coffee table is another great way to enjoy the warm Hygge feeling with friends.
# Introduce natural elements
The simple aesthetics of Hygge are closely tied with bringing natural beauty inside your home. Add timber elements and greenery to your living room by peppering plant pots, botanical art pieces and wooden furniture around the space.
# Light the room up
The welcoming atmosphere associated with Hygge is not complete without the right lighting. To create a cosy vibe in your living room, opt for soft warm lights dispersed across the lounge, instead of relying on one extra bright fixture. Combine wall lights and pendants with other lighting types – a table light placed next to the sofa perhaps, or a reading lamp hanging over an armchair.
Candles are also a must-have accessory in a Hygge living room. As well as a source of gentle ambiance, they are ideal for introducing aromatherapy to the space. Choose the aroma of your scented candles based on the mood you want to create – vanilla, for instance, will make you feel warm and cosy, while pine is great if you need to de-stress.
Using your fireplace as a source of heat instead of electric heating is another was to bring extra light, warmth and comfort into your living room, turning it truly Hygge!
For more interior design inspiration and leather furniture ideas, sign up to our newsletter.