Many homeowners during the 1800's would redesign their homes and incorporate heavily upholstered furniture, portraits of flowers and animals, spectacular wooden carvings, and brass and golden accents. It's safe to say that the interior design world wouldn't be the same without Victorian decor. Victorian decor reflects the taste and styles of 18th Century England.
Today we'll highlight a number of ways in which you can create a Victorian style living room.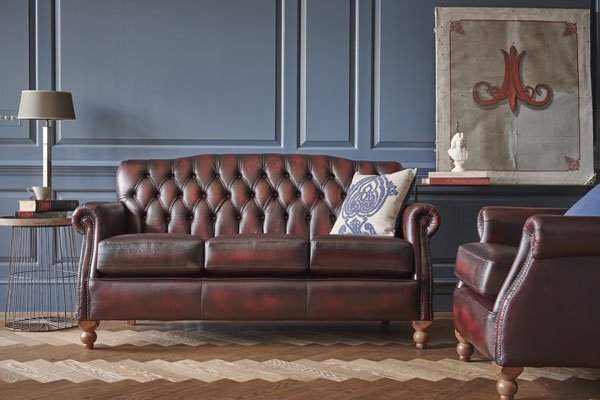 Victoria 3 Seater Leather Sofa
A Chesterfield Sofa
Chesterfield Sofas epitomise everything that's great about Victorian decor. They were first commissioned in the 18th Century by the 4th Earl of Chesterfield who asked a local craftsman to build a leather sofa that would allow people to comfortably sit upright without wrinkling the garment. Chesterfield sofas are characterised by tufted leather, brass covered nails and scrolled arms.
Incorporate antiques from the Victorian era
Victorian decor has become synonymous with antiques; take a trip to your local antique store or any store that specialises in Victorian era antiques. These shops can be pricey, so take a look around thrift stores, these may offer antiques at lower prices. Another place to look is yard sales, its surprising what some people want to get rid of.
Replace lighting fixtures
Replace your current fixtures with ornate Victorian fixtures. The type of lighting fixtures you should look for are beaded lampshades, chandeliers, and Victorian-style lanterns. To create an authentic Victorian feel, use Victorian candle holders to provide subtle lighting in your living room.
Replace curtains with Victorian Alternatives
Replacing your current curtains with Victorian alternatives will have a significant impact on the look and feel of your room. Curtains in the Victorian era were often made using ornate fabrics such as silk, velvet and cotton. The primary function of Victorian curtains was to protect against draughty windows, they did this through layering and additional top treatments. Victorian style curtains can be found at most home improvement stores.
Accessorise with Victorian vases, ornaments and floral arrangements
A living room is never truly Victorian without Victorian accessories. Incorporate globes, needlepoint pillowcases, old floral vases and a variety of Victorian miniatures to create an authentic Victorian look. It's very rare that Victorian style living rooms have empty walls, so incorporate Victorian wall art, antique mirrors and antique clocks for added character. Use ornate frames to accentuate any portraits or artwork. While all of these things may be expensive, they will certainly give you the look that you want.
Choose Victorian flooring
Victorian floors tend to have lots of patterns. If you have wooden flooring, you can complement it by incorporating a large rug that features Victorian style patterns. It's important, however, that the colour of the rug works well with the rest of your living room. Combining dark walls with a dark rug can make your living room look too heavy and bulky, so if you choose dark flooring, opt for a lighter wall colour.