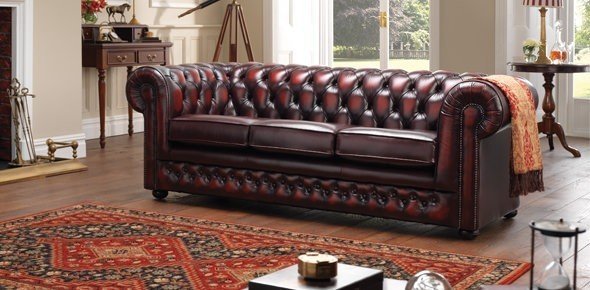 Choosing the colour
One of the first considerations you should make is practicality. If you have pets or a young family, then you probably won't fancy spending your spare time wiping finger marks or dogs fur from a cream or tan Chesterfield sofa. One very versatile option is having a black leather sofa, which is easy to maintain and fits well with the majority of décor styles.
A brown leather sofa made from aniline leather, brings an element of comfort and homeliness to a living room, and a red leather Chesterfield can create a very striking counterpoint to neutral or light décor. You can accentuate polished wooden flooring with a cream leather sofa; this can be accessorized with a variety of colorful cushions.
Choosing the style
It is worth remembering that you will have to live with your sofa for the next few years so choose a style that will age well and match any future trends, for example, in 3 years time are you still going to love that yellow low backed sofa? With a wealth of styles available it can complicated to choose a leather sofa that everyone in your home is happy with.
If you prefer sofas with higher backs and elegant low back designs in beautiful two toned antique colors then a traditional leather sofa is for you. Chesterfield Leather Sofas are a great choice if you're looking for a sofa that is both classic and timeless. If you like modern décor, a contemporary sofa might be a better choice, these are available in a wide range of shapes and sizes.
Choosing a leather type
Full Grain Leather
Full grain remains natural and is the most desirable of all leathers. The prominent markings from bug bites, a scar from a fence, or the usual little wrinkles that occur on the leather are evident. These natural markings provide the hide with a host of unique characteristics.
Top Grain Leather
If you hear or see the words "top grain", the reference is to where the leather was cut rather than its grade. Do not confuse full grain with top grain, which basically means that it has not been split. When shopping for your leather sofa, make sure that the back of the sofa, cushions and any large areas were cut from the top grain of the leather and not from vinyl fabrics.
Aniline Leather
Aniline leather has been labelled with various names such as naked aniline, true aniline, and aniline full grain, all of them being exactly same. Aniline is basically leather that has been dyed right the way through. The spongy feel of aniline leather allows it to breathe effectively, which in turn increases its durability. It's worth remembering that: the softer the leather feels, the higher its grade.
Antiqued Leather
When searching for a leather sofa that suits your unique needs you may hear the word "antiqued" this is a leather that has been dyed twice, first in a lighter shade of colour, and then in a darker shade that will provide variation and a unique antique appearance. This process is also known as distressed leather.